Indian Rock Cycads & Palms
Cycads
Ceratozamia, Cycas, Dioon, Encephalartos, Lepidozamia, Macrozamia, Stangeria, Zamia
Palms
Acoelorraphe, Allagoptera, Archontophoenix, Arenga, Beccariophoenix, Bismarckia, Brahea, Butia, Caryota, Chamaedorea, Chambeyronia, Coccothrinax, Copernicia, Dypsis, Howea, Jubaea, Livistona, Nannorrhops, Parajubaea, Phoenix, Pritchardia, Ravenea, Rhapidophyllum, Rhapis, Rhopalostylis, Sabal, Serenoa, Syagrus, Trachycarpus, Trithrinax, Wallicia, Washingtonia
Trees and others
Agave, Enterolobium, Hibiscus miniature, Schizolobium parahybum--a mimosa-like tree for perfect canopy, Strelitzia reginae juncea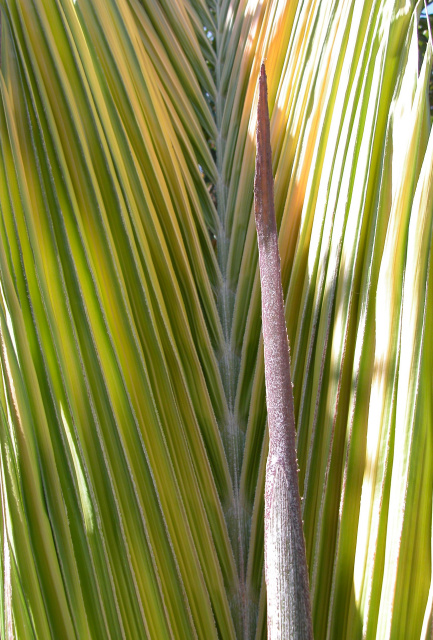 Kentiopsis oliviformis
Address: 28969 Mountain Meadow Road, Escondido, CA 92026
Note: Do not use Mapquest or other Internet map services to find us--you'll get routed to and stopped at a gated community named Rimrock.
==>Please use the hand-drawn map on our "Map" page
Call (760) 855-6558 Louise's cell phone
(760) 855-6557 Dave's cell phone
=>We look forward to your calls, so feel free to call. However, our phones are being bombarded by sales calls, in fact we have discontinued our home phone number because the "no-call" government promise isn't working. If we are not available to answer your call to our cell phones, please leave a short message so we know it is a valid call! With just an unknown number we may block it. If you find that your call is blocked, please contact us by email and we will unblock your number.
Write to us with your requests: Email - l.minks@sbcglobal.net
=>For practical reasons we have discontinued taking pictures and emailing them to folks who are simply curious. We will honor requests for our established customers or those who are members of the Palm Society or Cycad Society. We've done our very best to please anyone who have called with inquiries but this picture work is quite involved and 95% of the time we never hear back, so why did we do this?
What is best? Visit our nursery, see these plants for yourself and see the mature plants we have in our own collection. You can tour our nursery alone without any pressure from us. You can then make the best decision.
Are you concerned about the cost? We have a discount schedule based on total purchase price that makes your selection very affordable. Please inquire about our discount schedule when you visit.
The following credit cards are accepted: VISA, Mastercard, American Express and Discover