Redlands Cycads at Indian Rock
Indian Rock Cycads and Palms is assisting a couple in Redlands, CA in selling their collection of specimen cycads that they have grown in the ground for 22 years. We have grown our cycads here for 20-25 years so we are experienced with cycad care from cone, to seed, to seedling, to 1 gallon on up, then growing them in-the-ground.
Our conceptual contribution has been to suggest a competitive selling price (because we know the market very well), develop a comprehensive inventory list with high definition photos, and then direct interested customers to these owners in order that the sale can be settled.
Our hands-on contribution has been to dig these cycads using our "Soil Wrap" technique leaving a protective wrap of soil around the root base. A special tripod with hand-operated winch is used to extract the cycad from its trenched, wetted location. We carefully inspect the roots and, if required, protect them with fungicide and spur growth with root hormone. These cycads are then placed in the appropriate container with Greatsoil LLC™ proprietary soil for cycads. When this is done these cycads are ready to be planted in the ground immediately or to stay in this container for years.
You are invited to view these cycads at our nursery.
Redlands Collection here at Indian Rock

9-Dec-21

#

Name

Caudex Size

Comments

Flat Price

Status

23

Encephalartos arenarius blue, new flush

10"w, 5.5"h

$1,650

available

24

Encephalartos arenarius blue

13"w, 7"h

$2,150

available

86

Encephalartos caffer "Humansdorp"

5.5"w, 4"h

rare

$850

available

73

Encephalartos longifolius gray

6"w, 3"h

3" offset

$1,275

available

25

Encephalartos msinganus

9.5"w. 7"h

$1,000

available

19

Encephalartos latifrons Trapps Valley

10.5"w, 5"h

extremely rare

$8,000

available

You wonder, "Wow, why is this cycad so expensive?"
1) the latifrons is in the top three of all cycads in the world
2) typically $1000. per caudex inch, this 27 year old 10.5" latifrons is priced low at $8000.
3) go to Google and ask the question "what is the most expensive cycad?"
4) because it is worth it; it is a dazzling, robust, specimen cycad

22

Encephalartos arenarius blue

8.5"w, 3"h

$1,400

SOLD!

78

Encephalartos cupidus

4"w, 2.5"h

extremely rare

$1,200

SOLD!

75

Encephalartos eugene-maraisii

4.5"w, 3"h

$950

SOLD!

4

Encephalartos ferox

10"w, 6.5"h

$600

SOLD!

87

Encephalartos friderici-guilielmi 'Freddy'

10"w, 6"h

rare

$1,131

SOLD!

18

Encephalartos horridus

15"w, 9.5"h

$1,800

SOLD!

35

Encephalartos latifrons

10.5"w, 7.5"h

extremely rare

$7,000

SOLD!

80

Encephalartos middelburgensis

10.5"w, 9"h

extremely rare

$3,000

SOLD!

34

Encephalartos princeps

16"w, 22.5"h

extremely rare

$4,250

SOLD!

82

Encephalartos turneri

4.5"w, 3"h, 39"tall

rare

$750

SOLD!

76

Encephalartos turneri

7"w, 3"h

rare

$1,150

SOLD!

Only 6 left! Come and get yours.

Total sold

$23,231
Here are photos of before dig and after 6 month's hooking up
May 2021, prior to dig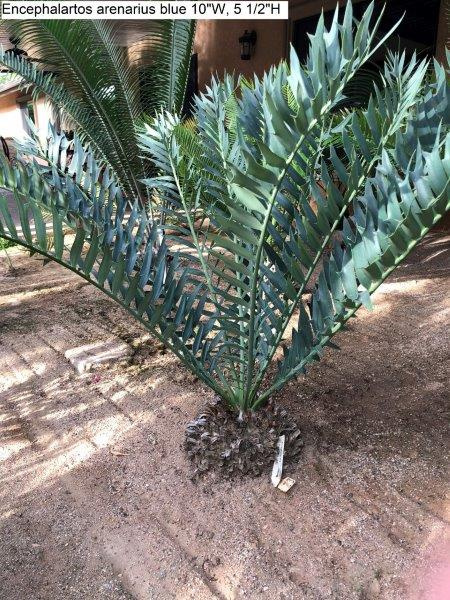 November 2021, 6 months after dig, fully hooked up, new flush!
Encephalartos arenarius blue, 10"W, 5.5"H