Encephalartos altensteinii x trispinosus (aka, alt x tri). This was
SOLD

!
Lerio container, 14"cw, 16"ch, new flush is forming, will be 6' tall. This is an example of a large root base (would only fit in a 30" box). Balanced!

---
Encephalartos eugene-maraisii Kransberg, 15 gal, 4", 30" tall
Here is a true specimen cycad that was SOLD to a customer in southeast US. He knows value.
One of my best customers glumly said that the E. middelburgensis and E. eugene-maraisii "Stand like statues and never grow". Yes, it would seem so if 20 years pass and there is little progress. We know this very well.
Provenance for this EM, photo below: Planted in the ground, 300 Patch, as a 3 year old, 2 gallon, 1" seedling in 2007, dug December 2020 with 4" caudex width, 43" tall (stretched because it was partially shaded by a nearby cycad), then placed in a 5 gallon container of Graeme Fairlie soil on the west side of our garage where the sun is quite hot, with this container half above the ground and half into the ground. The purpose was to mimic fast in-the-ground growth yet allow removal later with little disturbance to the roots. This EM was removed from the ground 26JUL2022, placed into a 15 gallon container of GF soil, the stretched leaves removed, leaving 2 leaves of a new flush 30" in length. What was accomplished? In that 1.5-year period the caudex width did not change, the leaf stalk (petiole) had thickened slightly. The length of the leaves was reduced from 43" to 30" because it was grown in full, hot sun with no canopy and the next flush reflected that.
=>If you believe you can do better, then we encourage you to go out and get a 1" seedling and try for yourself. Your children will enjoy it. My best customer agrees with us, "When you buy cycads, you are buying time".

---
Encephalartos bubalinus

, 15 gal, 8", 40" tall with 2 pups.
Impeccable new flush. Grown in the ground starting 2012, dug 2016 and placed in container (thus it quickly grew). This was SOLD NOV2022.
The distinguishing feature of this cycad is the tightly spaced leaflets that are cupped and may be unusually overlapped. Native to humid, tropical eastern Africa, yet this cycad does well in temperate southern California.
This cycad readily suckers. With few sources available, this cycad is in demand and offsets sell for $150.
---
Encephalartos lanatus, 15-gal, 3", 2". The last one.
This cycad does not become large but remains so remarkably prominent and will be noticed and admired in your garden. This cycad has two branches. Since I have successfully separated many cycads, e.g., the multiple-offsetting horridus, I recently inspected this cycad's root base by pulling it out of its 7-gallon container to see how the offsets were formed. There is a large root base for the 3" parent and growing out of that is the 2" offset which is unlike that of multiple-offsetting parts that can be easily separated. There is no possibility of separation with this cycad. Note the new flush on the larger caudex and the interesting lanate which is the woolly, curly hairs on this caudex. This is the distinguishing feature of the Encephalartos lanatus. As well, this cycad has a steep curl of the leaf tips termed recurve, seen in this photo. This cycad enjoys full, blasting sun. This was SOLD.
---
Encephalartos transvenosus Soutpansberg

,

5.5", 15 gal
Features that are obvious when comparing this Soutpansberg transvenosus to the regular transvenosus :
The regular transvenosus usually has shiny, dark olive-green topside leaflets that are curved upwards.

The Soutpansberg has satin, green-gray blend leaflets that tend to be 90 degrees to the rachis, with very little curve upwards. Levin describes it as "leaflets line up in straight rows down the length of the very vertical leaves". He also states it has "overlapping leaflets with pungent teeth on their lower edges"; that feature was not apparent for this cycad (the only one we have had) but we assume that this feature will develop when it is planted in-the-ground and gains maturity.
Provenance: Purchased from Maurice Levin, Jurassic Garden, November 2017, 5 gallons, shifted to 15 gallons here at Indian Rock early 2018. This was SOLD.
---
Encephalartos latifrons, 10.5" caudex width, 5" caudex height, 25 leaves, 20 gallon. $8000.
=>This was the most magnificent cycad we have ever had at Indian Rock. This was SOLD!
Important points:
Provenance: This cycad began with Dick Johnson, renown cycad collector, obtained from him as a 1" caudex (probably 5 years old then). Grown in Redlands in loam soil for 23 years, with 95° F average summer temperature, 26° F in the winter, occasionally 22° F. Absolutely unfazed by cold.

Dug May 2021, no roots were harmed, placed directly into Graeme Fairlie soil, completely hooked up and robust within 6 months.

The E. latifrons is ranked in the top 3 of all cycads, the hirsutus, heenanii and latifrons.
What the buyer said:
The buyer, already owning 4 latifrons which grow so very slowly, recognized that the value of this 10.5" latifrons was $10,500. and was motivated by its selling price of $8000, He gave us his reasons for buying it (and there is nothing better than hearing this message from a buyer). He said that the story with the latifrons is always the same,
larger ones, like 8" and larger, are never sold, one cannot get the person to let it go

smaller ones are available but they are overpriced
Encephalartos arenarius blue, 12" in-ground. This was SOLD! This cycad has been on display as part of our Personal Collection for over 15 years.
Provenance: In 2003, a fellow cycad collector who was employed by the San Diego Zoo his entire career had a large female Encephalartos arenarius at his home in the west side of Escondido with a 2' tall cone. He invited me to pollinate this cycad. Pollen was obtained from Maurice Levin, A & A Cycads and this cycad was pollinated. 200 viable seeds were obtained and 100 were given to Levin in exchange for the pollen he provided. This process from pollination to having germinated seeds took about 18 months. In 2007 these cycads were about 3 gallon size and planted in the ground in the 150 Patch. These Encephalartos arenarius are true species based on the experience of my cycad collector friend and Maurice Levin, a licensed dealer.
=>Please note that we have just 2 more of these left (in 15 gallon containers), 1 on display on the east side of our house (Personal Collection) and 3 more in-the-ground (In-Ground150 Patch). After that it takes 20 years to replicate what is available now. Good luck finding an arenarius blue of this age, size and cost anywhere! Every serious cycad garden should have a very blue cycad to contrast against the green cycads. This is it.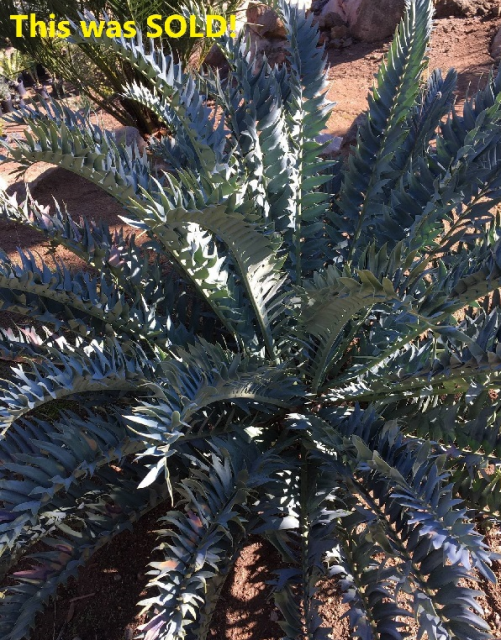 ---
Encephalartos horridus, 7". $840., discounted with volume purchase. This was SOLD!
Shown here with a brand new flush, still soft. The leaves will become silver blue soon. Note that it is blemish free and has leaflets with perfect form.
Provenance: The parent cycad was started around 2002, grew to a 5 gallon size, planted 2007 in the Horridus Patch, dug 2021, offset placed into a 15 gallon container and sold 2022.
There are many E. horridus in our stock, from 2.5" up to 58" in a huge wooden box suitable for large estates and public gardens.
---
Encephalartos septentrionalis, 9.5", sold as 9", 77" tall. $2241. This was SOLD!
21 years in the ground, about 25 years old. Massive root base, over 350 pounds total.
This septentrionalis is more erect than the whitelockii--quite distinctive!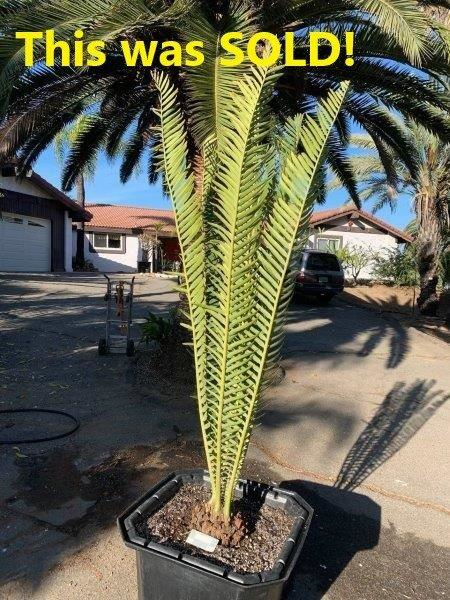 ---
Macrozamia macdonnellii Simply awesome! This was SOLD!
Many collectors wanted to buy this specimen but an Arizona collector spoke first. Loran Whitelock assisted in the initial care of this cycad, for the move from in-ground Escondido to in-ground Arizona. It has thrived and is extraordinary!