About Us
The legend of Indian Rock
Signal Rock of the Indians
Señale piedra de los indios
The banner for this website is of Indian Rock, a 50-ton or so granite monolith. Over 100 years ago our neighbor's parents homesteaded this entire area of homes of about 50 acres, which included our property. The northeast edge of our home, where Indian Rock is located, faces the Indian reservations of Pala, Pauma, Rincon and others, each approximately 10 miles away in a straight line. The large carbon mark on one edge of Indian Rock is due to those Indians making smoke signals to communicate to their brothers 10 miles away. Indian Rock is a landmark in our community.
Indian Rock Cycads & Palms
Let us introduce ourselves:

We are Dave & Louise Minks, owners of Indian Rock Cycads and Palms.

We make it a point to show you how a particular plant will look when it grows and matures. Most who visit us stay a little longer touring and viewing each palm or cycad of their interest. We often hear, "

You have done a great job here."
Location:
Our nursery is located in Hidden Meadows,
Escondido
.

Where is this?

As you drive north on Interstate 15 past Escondido about 9 miles, notice Lawrence Welk's estate with his Condominiums, Champagne Village Mobile Home park and the immaculate golf course that he adored.

Indian Rock Cycads & Palms is located directly above the LW estate on a mountain meadow, approximately 1400 feet above sea level. You would exit Interstate 15 earlier driving north onto the Mountain Meadow/Deer Springs exit.
Climate:
Because of this location, 18 miles from the coast, our plants are subjected to very bright sun, with summer temperatures ranging typically from 85 to 95 degrees F, under dry conditions, always with gusty
trade winds.

During the winter, the wind blows fiercely and the temperature sometimes touches 29 degrees for an hour or so.

Because our property is sloped, frost is rarely a problem; in fact, a friend in
San Clemente
says his bananas do not grow as well as ours.

The important point we wish to make is that plants grown at Indian Rock nursery are subjected to a wide range of temperature and humidity changes, are under bright sun, and therefore become hardened and tough.

We confidently make the claim that all of our coldframe plants can be placed directly outdoors along the 5-mile coast corridor (it has been done successfully, again and again).

Our acclimated plants can go directly outdoors from the coast to harsh locations like Alpine and
Pomona
(again, we ask for feedback and the story we get from our customers is that our plants simply WORK).

We heard it clearly from one of our favorite customers who returned to buy more palms--he said that when he buys plants from nurseries where the plant is still in the greenhouse, "it is a crapshoot, with about 25% dying, but every one of the plants I bought from Indian Rock did well". This positive story happens because we watch the progress of plants right here--if a plant is extremely fussy and touchy we probably won't continue to have it because we know there's no need to subject you to this.

We will teach you exactly how to plant a palm or cycad so you won't have to go through a difficult acclimation period. Repeat, you can buy a fragile, greenhouse-grown plant from other growers or you can buy a tough, acclimated plant from Indian Rock (for about the same money). The choice is yours.
Specialties:
Trees.

People have traveled miles to obtain our specialty plant, the Schizolobium parahybum

.

Why?

This African-looking, umbrella-like plant (actually from

Brazil

) is mimosa-like and provides perfect dappled light for tender plants grown below.

A customer of ours in

Vista

grew one to 15 feet, with a 6 inch trunk, in less than 2 years—people stop and ask him what it is and where they can get one.

Get this tree to provide CANOPY, which will allow you to grow a tender Ceratozamia right out in the breeze.
Cycads.
Our Dioons are spectacular, especially the fuzzy-leafed D. homgrenii, and the extremely hard-to-find, keeled-leaf D. califanoi.

No one has these plants as big for less.
We painstakingly bought and germinated every Encephalartos seed offered by the Cycad Society Seedbank these past 15 years. It's quite a collection now, like E. cerinus, E. chimanimaniensis, E. concinnus, many varieties of the E. ferox, E. horridus, E. kisambo, E. lanatus, E. laurentianus, E. lebomboensis, E. lehmanii, E. longifolius blue (huge selection of 5 gallons to 20 gallons), and many varieties of E. manikensis, E. munchii, many varieties of E. natalensis, E. trispinosus, spineless), and many E. hybrids. Finally, we were fortunate to locate a source of seeds for the E. whitelockii, germinating over 200 seedlings in 2005. Our specimen E. whitelockii's are now in 20 gallon containers, ready to go.
Our 15 gallon, sumptuous Cycas thouarsii is the best bargain you can find, especially when you consider IT-CAN-GO-DIRECTLY-INTO-THE-GROUND. Be sure to look at the "Cycas Species" page. Also see our magnificent, human-friendly (no sticky barbs) C. thouarsii to get an idea of how it will look in your garden. By the way, we do our best to have a real example of a palm or cycad that we sell, in the ground, so you can see it before you buy.
Everyone loves our Cycas panzihuanensis. The leaflets are perfectly stacked and have the best color you've seen. They have an interesting characteristic of laying down somewhat flat on warm days and lifting up on cool, wet days. Our North Carolina customers report this cycad easily goes down to 16 degrees F, with slight burning of the tips...well, this cycad's habitat is the province of Panzihua, China so it's no wonder it can take the cold.
Palms. The Brahea clara is our signature palm, located to the right of the driveway as you enter. With costapalmate leaves, a dazzling silver-green, and petioles with a nice yellow margin you'll wonder why you haven't noticed it before. The lace within the trunk will make you swoon.
One of the greatest palms we've ever sold is the Ravenea glauca. Why? Our women buyers love it because it's small and quite 'crisp'; they hate palms that grow so tall you can no longer see any detail. Don't let the R. glauca fool you because it will easily stand aside a monster Phoenix dactylifera and tirelessly suck up all the hot, hot sun it can get. We sold 11 each 15 gallon R. glauca's, about 10 years old, to one customer in Alpine—he said that his neighbors now call him the King of Glaucas!
Visit us:
Call for an appointment. Open every day.
Call (760) 855-6558 (Louise' cell phone) or (760) 855-6557 (Dave's cell phone).
We promise that you will be pleased. We have a discount schedule based on total purchase price that makes your selection very affordable--ask us when you arrive.
Hey, it's OK to simply come and tour the grounds to take a look. You decide when you are ready to buy and we'll be there for you. If you are too far away, consider having us ship to your location. For shipping details see the right-hand tab "We Ship!".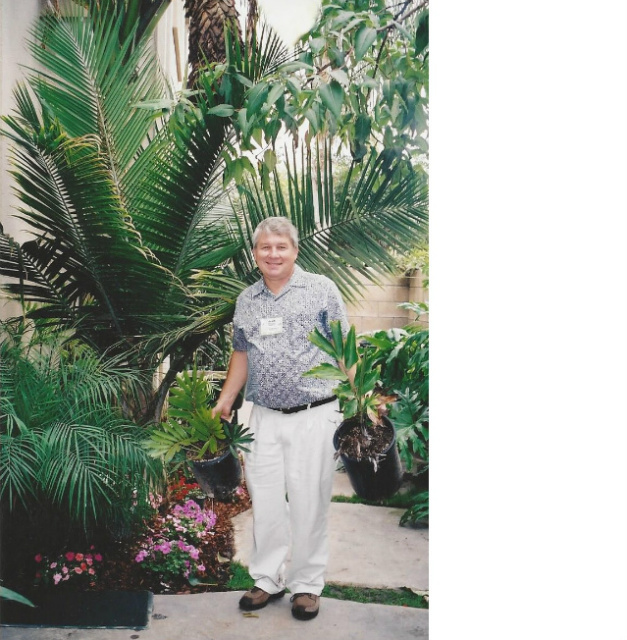 Dave Minks, 2003, at John Rees garden next to John's flawless Shaving Brush (Rhopalostylis sapida) palm.